ERIN KANAGY-LOUX
pastry chef

"When I tried the 68% Fruity Dark Chocolate, it started singing to me in a sense that I wanted to pair it with something that had a lovely citrus flavor, yet not as sour as a lemon."

3 Ingredients Every Chef Should Have:
"Salt, olive oil, and a bottle of wine (maybe a notebook and a pen too)."


Fave TCHO Chocolate:
"The 39% Milk Chocolate. I am not typically a milk chocolate fan because it tends to be overly sweet and loses the essence of chocolate. But when I tried TCHO's, it was a dark, rich, complex flavor that made me appreciate its quality."


Kitchen Nickname?
"Pastry MacGyver because I am very creative with solving problems."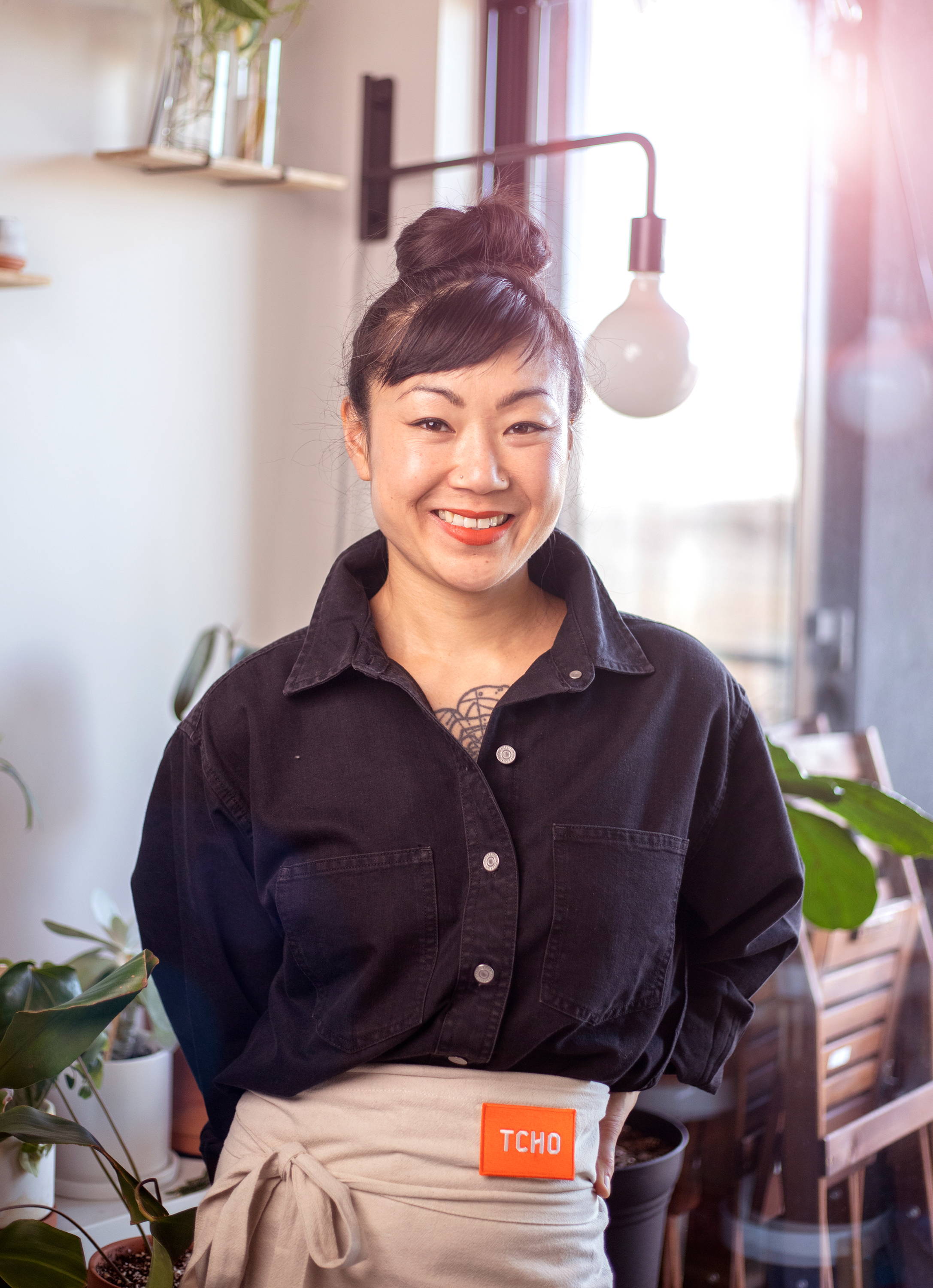 Over the last 20 years, Erin Kanagy-Loux has worked in various arms of the hospitality industry, most recently as the Executive Pastry Chef for Union Square Events, Mah Ze Dahr Bakery and Reynard at the Wythe Hotel. She is most recognized for her work in celebration and wedding cakes and has been featured in NY Magazine Weddings.
Not impressed yet? Erin was also recognized as a Rising Star in 2015, has two young boys (Seven & Wilder), and has honed her skills as a coach and instructor at the International Culinary Center (formally FCI), California Culinary Academy and the Western Culinary Institute of Portland, Oregon. No wonder she's referred to as "The MacGyver of Pastry" in kitchens all over the country.
LEARN MORE ABOUT THE CHEF
Where are you originally from?
ERIN: I was born in Japan but grew up outside of Philadelphia and then in Eugene, Oregon. Over the years, I moved up and down the West Coast. I started Pot Pot Donuts many many moons ago in Seattle, WA, when I was seventeen. I've lived in Eugene, Seattle, Portland, San Francisco and then ended up in New York City where I am located now. 
How long were you in SF and what were you doing when you were here?
ERIN: I worked for Elizabeth Falkner for a while, I was the Pastry Chef of Citizen Cake. Then to change things up a little bit, I opened the La Boulange (Polk). I had worked for Le Cordon Bleu in Portland and then started teaching again at the California Culinary Academy, in San Francisco.
What made you explore a culinary career?
ERIN: My grandparents lived in what I call Amish-ville, Pennsylvania, in between State College and Lancaster and I would visit them every summer and for the holidays. My grandfather was Amish, he became a Mennonite pastor and so they were very religious and strict. There was a very specific time we would have to wake up and listen to the sermon and basically everything we did revolved around listening to a sermon. In between all of our church responsibilities, my sister and I got to hang out at our second cousins dairy farm down the lane, where we learned how to milk cows and skim the cream off the top of the huge holding vats for my grandparents coffee. We'd visit our Amish neighbors who taught us how to quilt, bail hay, collect eggs from the hens and how to run through corn fields. This is where my love for food was born and these experiences allowed me to understand how food is cared for and where it's grown. All of my life experiences came together and I was able to apply what I knew to food.  
Where did you hone in on your skills?
ERIN: There's this bakery called The French Horn Bakery where I learned how to bake bread, pastries, do prep work, and to work on a line and all that fun stuff. From there, I worked as a sushi chef in Portland due to my love of both precision knife work and fish. I just love food, and I wanted to learn everything about it and work in every aspect that I could. It's the way I think and what I really enjoy.
Who are you mentors in the industry?
ERIN: Elizabeth Faulkner, I just really appreciate how she's always followed her passions, she keeps it real, and always has such a positive outlook on everything. I also admire Will Goldfarb as he is my first true mentor and has been the biggest champion of me and my career.
What was your last position?
ERIN: Executive Pastry Chef of Union Square Events which is a part of Danny Meyer's Union Square Hospitality Group. All of my past experiences prepared me for this role because I was able to make desserts for small parties of ten to large galas of over four thousand people. I love challenges like this where I can explore opportunities that I have never had before. We had a partnership with Delta Airlines Delta One where I had the opportunity to really exercise my skills. Menu planning for flight is a whole different world. I had to think about how each item would fly in a plane, along with all the many variables. Things like airplane ovens and altitude, ease of serving for the flight attendants, ensuring the quality is maintained from our ovens to the in flight guest.
What is something you are really proud of?
ERIN: I am a working mother, and for a while I was a single working mother. I have worked really hard to be where I am and to be able to continue to move my career forward and have the lifestyle I would like. I've had to battle making compromises like missing waking up or bedtime tuck in with my kids. I would go into work extra early so I could leave and attend the mother's day class performance and things like that. This is why I believe in training really well so you can establish good communication where everyone shares responsibilities and we don't all have to miss out on being there for important family holidays.  
What would you tell an aspiring chef?
ERIN: A couple of things come to mind. My advice would be to find someone who you admire and learn everything from the way they think about sourcing food, the way they hold their knife to how they communicate and treat others. And ask A LOT of questions! 
What was your first experience with TCHO?
ERIN: When I was living in SF teaching at the California Culinary Academy, I remember when the factory opened on the Embarcadero. I remember walking in and thinking everything was so shiny and pretty and I fell in love with the milk chocolate when I first tasted it. When I tried the milk chocolate, it was a dark, rich, complex flavor that made me appreciate its quality. Every restaurant I have worked at, I have tried bringing the product with me.
ERIN'S RECIPES + CHEF DEMOS

Finding creative ways to eliminate food waste is an essential skill for pretty much every chef. Making them into as something drool-worthy and eye-catching as this Yuzu Chocolate "Mousse" Cake is one of the reasons Pastry Chef Erin Kanagy-Loux earned her nickname of the "Pastry MacGyver."
Follow along as Erin crafts this delicious new take on a classic dessert!
Finding creative ways to eliminate food waste is an essential skill for pretty much every chef. Making them into as something drool-worthy and eye-catching as this Yuzu Chocolate "Mousse" Cake is one of the reasons Pastry Chef Erin Kanagy-Loux earned her nickname of the "Pastry MacGyver."
Follow along as Erin crafts this delicious new take on a classic dessert!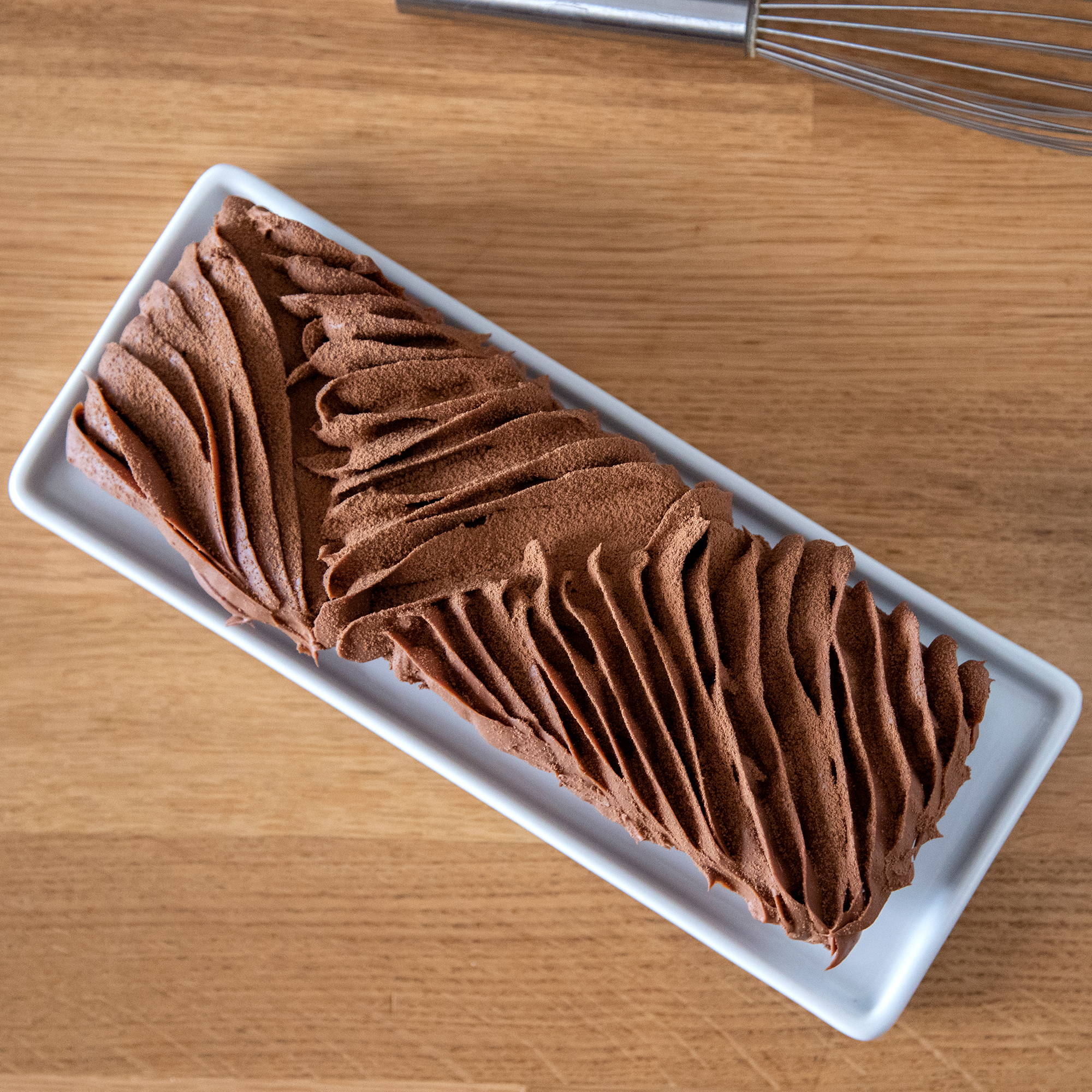 YUZU CHOCOLATE "MOUSSE" CAKE

DIRECTIONS
Yuzu Chocolate Mousse Cake
Preheat oven to 285oF
Spray oil your baking molds well (with oil or brushed with butter).
Whip heavy cream to medium soft peak using a whip attachment and reserve in the fridge until later.
Partially melt chocolates and cocoa powder over a water bath, enough to coat the baking discs with the melted chocolate.
Whip the whole eggs and sugar until it becomes thick and pale in color. When drizzled on top of itself, it should hold and begin to sink after 3 seconds.
While the eggs are whipping, heat kefir (either in a microwave or small saucepan). It may look curdled but it's ok.
Pour hot kefir mixture over the partially melted chocolate and whisk until emulsified.
While the chocolate mix is still warm, whisk in yuzu juice.
Once the eggs have reached the ribbon stage, gently fold into the chocolate mix in three additions (leave streaky) set aside.
In a clean mixing bowl with clean whip attachment, begin whipping the egg whites.
Once the whites are frothy and resemble "beer foam", sprinkling in a second set of sugar and salt. Whip the meringue until a medium soft peak.
Gently fold meringue into base in thirds, leaving streaky and not fully mixed.
Re-whip heavy cream to a medium soft peak and gently fold into base until fully combined but not overmixed.
Carefully pour cake batter into prepared baking molds. Note that the baking time will differ depending on mold.
Bake until the cake top springs back when pressed gently...
SAKE KASU CHOCOLATE DECADENCE

DIRECTIONS
Sake Kasu Chocolate Decadence
Preheat oven to 300oF.
Fully line the interior of the baking pan with foil and gently oil (spray, brush with butter etc).
Over a double boiler, place the chocolate and cocoa powder into a glass bowl and begin melting. Make sure to stir and create a homogenous mixture (i.e. no dry cocoa pockets). Take off heat and place onto a towel once fully melted (reserve the hot water for later use*).
In another pot, bring butter, agave, sake and sake kasu to a simmer.
While warm, pour sake mixture over chocolate and whisk until smooth.
Whisk eggs (whole & yolks) into chocolate mix while being mindful not to "cook" the eggs if too hot.
Stir in vanilla extract and salt.
Pour through a fine mesh strainer straight into the prepared baking pan.
Open your oven and slightly pull out the rack you will be baking on. Place your water bath pan onto the rack. Place your strained decadence baking pan inside the larger pan.
Pour the warm reserved water (*reheat to a steam if cooled) into the larger pan, careful not to splash onto decadence.
Pour the water bath to just at or slightly above the height of decadence and slide rack back into place. (Don't let the water slosh and splash!)
Bake until the decadence is set. When tapped, the mixture moves as one (like jello) versus riples (like a wave).
Depending on the depth of decadence and pan size used, approximately 35-60min.
Once set, let cool to room temp then refrigerate 4 hours to overnight....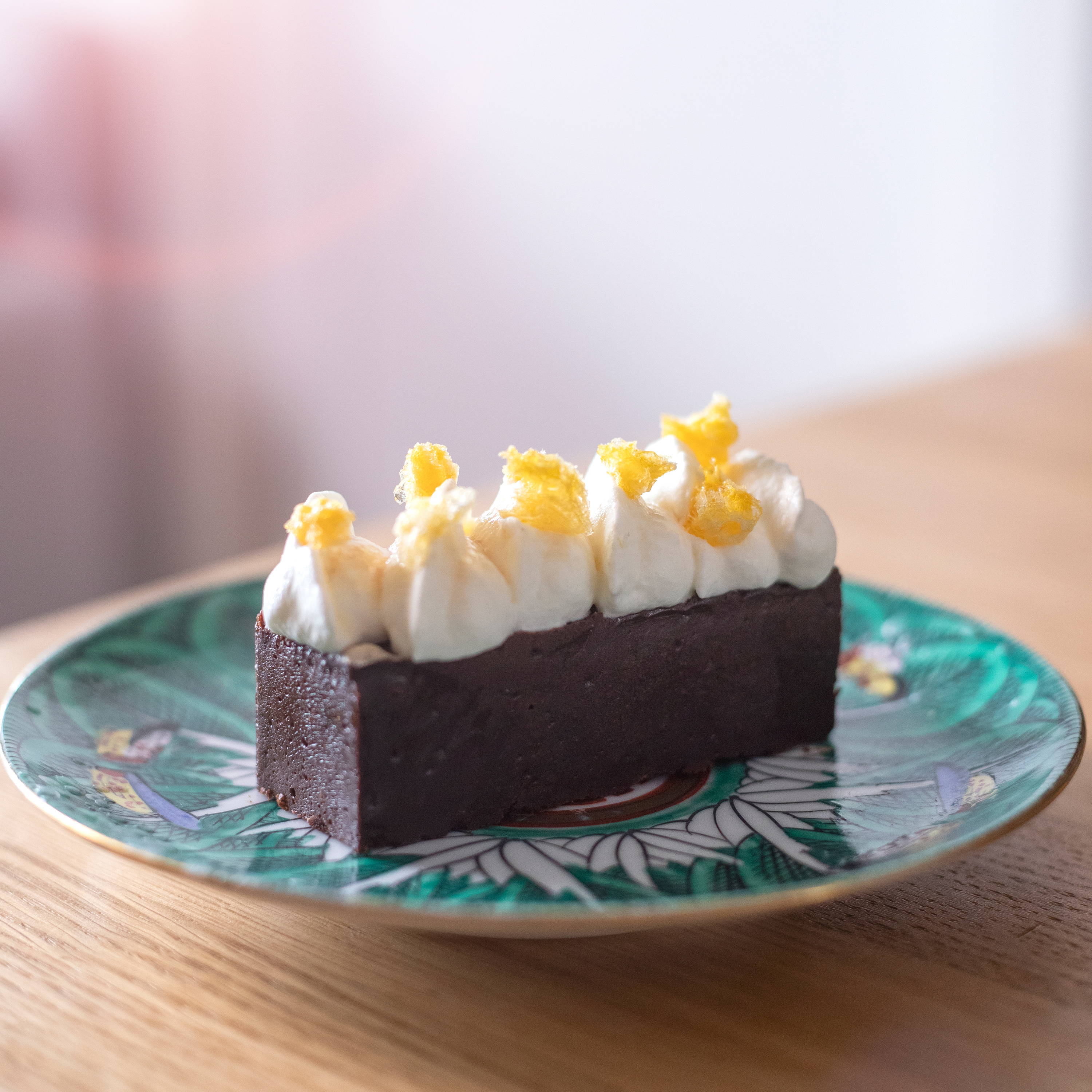 READY TO GET COOKING?
Choose your journey, find your TCHO below: