SAM BUTARBUTAR
co-owner + founder

"I love the 62% Mosaic because it strikes such a perfect balance between fruity notes, milky notes, and creamy notes. I love these flavors because they are bright and cut through all of the sweetness and creaminess in a pastry."
SAM BUTARBUTAR
co-owner + founder

"I love the 62% Mosaic because it strikes such a perfect balance between fruity notes, milky notes, and creamy notes. I love these flavors because they are bright and cut through all of the sweetness and creaminess in a pastry."

Fave TCHO Chocolate:
"I love the 62% Mosaic Dark Chocolate."

Fave Part of a Brownie:
"I am a sucker for brownies! Who doesn't love them? What I enjoy the most are the chewy, fudgy center of brownies -- such a satisfying texture."


What are 3 ingredients you can't live without?
"Vanilla, rum, and a really good sea salt!"
Sam Butarbutar is the Co-Founder and Culinary Director of Third Culture Bakery. He started Third Culture Bakery in 2017 with his now-husband Wenter Shyu. Their signature item, the Mochi Muffin®, was the debut pastry that placed Third Culture Bakery on the (culinary) map. Sam currently oversees kitchen production and recipe development for the bakery with locations in California and Colorado. As a third culture kid himself, Sam grew up in both Jakarta, Indonesia and New York City. He draws inspiration from his childhood memories of cooking with his mom in the kitchen and eating tropical fruits like passion fruit and guava. Sam started Third Culture Bakery to simply recreate all of the childhood flavors he missed, but over time, the bakery grew and evolved. It became a safe space for the LGBTQA+ community, immigrants, people of color, and other third culture kids like himself. Third Culture Bakery started because two people fell in love, so Sam and Wenter hope that they can spread love and kindness one Mochi Muffin® bite at a time.
LEARN MORE ABOUT THE CHEF
Where are you originally from and how did you end up in Aurora, CO?
SAM: It's always hard for me to answer this question. I was born in Jakarta, Indonesia and spent a good chunk of my childhood there, but I also partly grew up in New York City. My dad worked in the public sector when I was young, and we had to constantly move between the two countries. Flash forward to when I was 18, I got accepted to UC Berkeley for college, and I instantly fell in love with the Bay Area and have never really left!
After opening and running Third Culture Bakery in Berkeley for a couple of years, our third partner Rachel took us vacationing to visit her hometown in Colorado. We had no plans to open in Colorado, but we fell in love with the slower pace of life, the extremely friendly people, and the beautiful outdoors. Then, the City of Aurora somehow learned we were in town, and they offered to fund a new kitchen build if we decide to open another location in Aurora. We were all shocked and knew that it was a once-in-a-lifetime offer, so we said yes. The rest was history.
Where did the name Third Culture come from?
SAM: Third Culture came from the term "third culture kids" which was coined by a sociologist in the 1950s to refer to immigrant kids who came to the US with their parents. The sociologist observed that these kids were neither attaching themselves to the original culture of where their parents came from nor to the American culture where they're currently in; instead, they ended up forming their own "third" culture or their "third" interpretation of the two cultures.
Wenter and I resonated so much with this third culture identity. Growing up in two cultures, we always felt that we were too "white" for the Asian crowd and too "Asian" for the white crowd--so we ended up doing our thing and formed our own third culture. And so, Third Culture Bakery is an ode to our identity and our childhood; every pastry and drink we make has a piece of our story behind it-- whether it's a flavor we had growing up or a food item we fell in love while traveling together.
What inspired the two of you to start a bakery?
SAM: Our bakery (selfishly) was born out of the fact that we missed the flavors we had growing up: satisfyingly chewy mochi, tropical fruits and herbs like passion fruit, guava, lychee, and pandan, and spectacular asian teas like matcha and oolong. As much as we loved the classic french and Americana pastries, we craved these flavors so much that we decided to open a bakery so we can make, share, and EAT food from our upbringing.
What are you making at the bakery?
SAM:  When we started Third Culture Bakery, we started with only a single item: the original Mochi Muffin®. Shortly after, we expanded with the mochi donuts, mochi waffles--sweet and savory, and more flavors of Mochi Muffins®. We also offer an extensive drink menu featuring matcha.
How did you come up with the Mochi Muffin®?
SAM:  Shockingly, I had no plans on making the Mochi Muffins®. At my previous one-man-show bakery, my focus was entirely on gluten-laden french pastries--croissants, tarts, cream puffs, and more. But, when I started selling my goodies in Berkeley, people kept pestering me about gluten-free offerings. People would ask, "How come you don't have anything gluten free?!". I was very stubborn about it and refused to make anything outside of my offerings, but finally caved in after months of constant nudging.
I went home one day after my bakesale and set out to make a gluten-free option. I didn't want to make something contrived and wanted to create a pastry that's relevant to me. Immediately, I remembered an indonesian cake called "kue lapis" that my mom used to make growing up. It was my favorite childhood pastry: it has a satisfying chew from the rice flour, a gentle sweetness from the coconut sugar, and a subtle but aromatic richness from the coconut milk. But, as someone who also grew up loving the crispy and crunchy edges of american brownies, I decided to bake them in a muffin pan to get more of that crispy crunchy edges , and the Mochi Muffin® was born! I still vividly remember the first batch of Mochi Muffin® that came out of the oven. I ate the entire dozen in silence and in awe of the contrasting crunchy outside and chewy inside texture. "This is a keeper!", I blurted out loud to myself.
Now that you've opened up a second bakery, are you thinking about opening up a third?
SAM:  Yes. A third location is definitely on our mind. But, we are very conscious of our growth, and we never want to expand for expanding sake. The first thing that motivates us to expand is the fact that we want to share our Mochi Muffins® and our story to even more people. And the second is the fact that we want to offer mobility to our team. As we expand, more management and leadership positions are created. We always promote from within our company, and we encourage all of our team to grow and move to the next level of their career.
How do you manage having two bakeries in two different states?
SAM: We are lucky to have an incredible team in both states that not only care about the bakery and the pastries they craft but that also care about each other. Our production manager Brenda and our general manager Kevin are the two incredible humans keeping our Berkeley locations running smooth. And two things have been key for us managing our team in two states: first is having a clear organizational chart--outlining who does what? And if "x" happens, who do you go to?. And second is instilling a very clear, transparent communication.
Who do you admire the most in the industry?
SAM: I absolutely adore Alice Medrich. She's the first person who brought and popularized chocolate truffles in the US in the 70s. When I first started baking, I used her cookbooks as my bible, and learned so much from it. Her philosophy is to keep it simple (which doesn't necessarily mean easy) and to never compromise on quality ingredients. Without frills or fanfares, the desserts and pastries I make out of her cookbooks always manage to blow me away. And the way she took chocolate truffles, ran with it, and built a business empire so successful that chocolate truffles now have become household items is so awe inspiring.
What was your first introduction to TCHO?
SAM: I first had TCHO when I purchased some TCHO "fruity" sampler square while shopping at Monterey Market (the world's absolute best grocery store in Berkeley, by the way). When I went home and tasted the chocolate, I was immediately in love with the bright, fruity, top-heavy notes of the bar. It was my first time having chocolate like this, and I immediately researched and made my first contact!
What is something that most people may not know about you?
SAM: One of my life goals is to play the piano well. I took piano lessons as a kid but of course, I was a bratty kid who just wanted to play outside all the time, and I always found a way to skip my lessons. But now as an adult, I regretted not following through on those lessons, and I yearn to play it. I get so enamored whenever I see someone play the piano well. Hopefully, one day I'll be able to play a Chopin piece!
SAM'S RECIPES + CHEF DEMOS

EVERYDAY WE'RE TRUFFLIN'!

Inspired by his childhood and Alice Medrich, Sam dreamed up this delicious take on the classic truffle combined with traditional daifuku sweets to create these mochi chocolate truffles with roasted cacao nibs.
Find out a little more about Sam and how he crafts these delicious treats...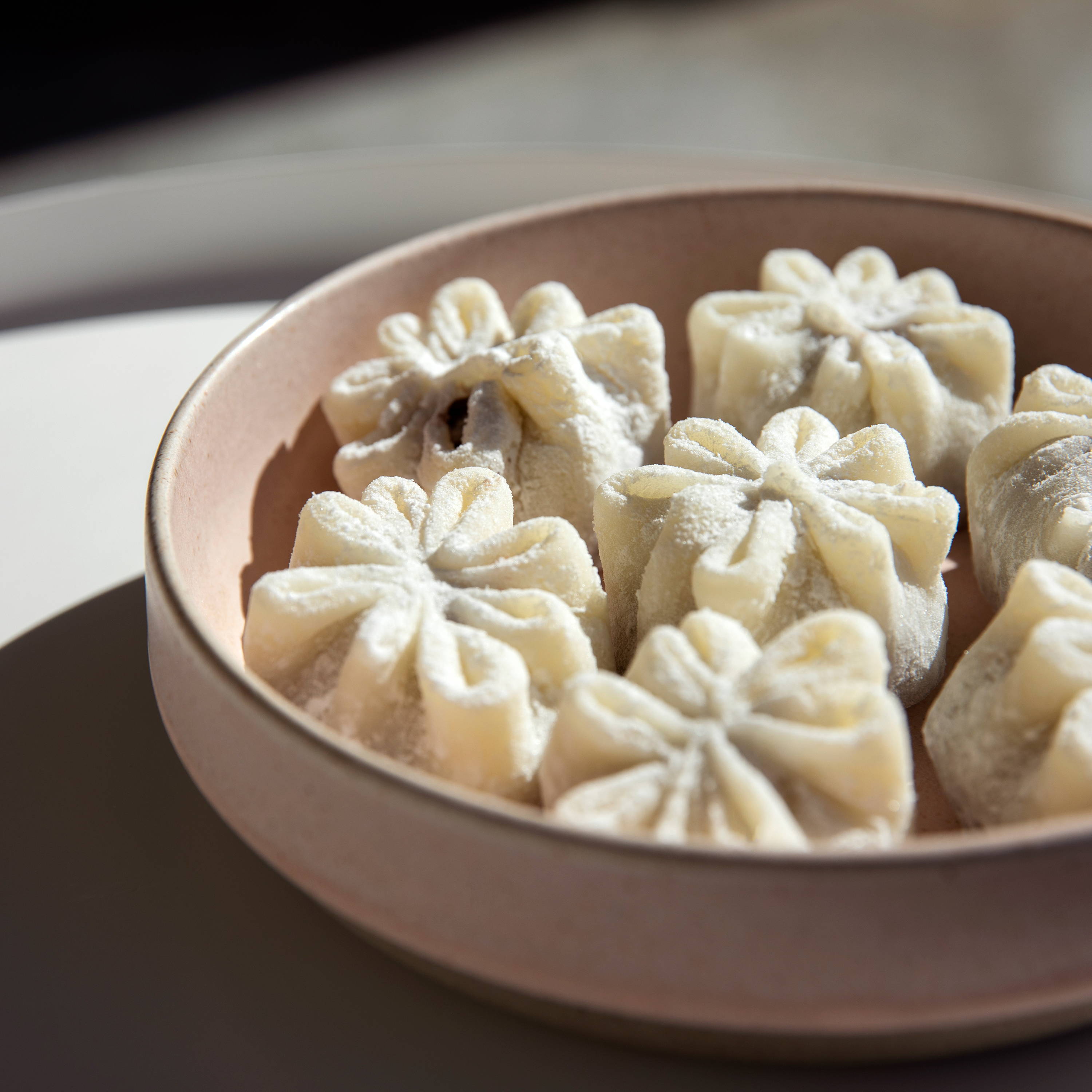 CHOCOLATE TRUFFLE DAIFUKU MOCHIS
INGREDIENTS
Truffles
454g TCHO 62% Mosaic Dark Chocolate*
144g Unsalted Butter, cut into small pieces
2g Sea Salt
2 Egg Yolks, at room temperature
4 oz Warm Water
TCHO Roasted Cacao Nibs, for rolling the truffles
Mochi Skin
270g Mochiko Rice Flour (TCHO Pro Tip: regular rice flour will not work here!)
160g Cane Sugar
3g Sea Salt
362g Whole Milk
2 tsp Vanilla Extract
72g Glucose Syrup, Rice Syrup, or Corn Syrup (optional, see note below)
Potato Starch, for dusting
DIRECTIONS
Truffles
Set up a double boiler. Fill a deep pot with around 1-2 inches of water, place on the stove on low heat, and place a wide metal bowl on top. Make sure the bowl is wide enough to cover the entire pot.
In the metal bowl, add all of the chocolate, butter, sea salt, and melt. Take caution that the water underneath the bowl doesn't get too hot (it should just be simmering, not boiling). If it does, add a cup of cold water to bring the temperature down. Continue stirring chocolate mixture with a spatula so everything melts evenly. Check with a thermometer; you want the melted mixture to reach a temperature between 120-130oF.
Once the chocolate mixture reaches 120-130oF, take off the boiler and set it aside. Place a fine sieve strainer over to get it ready for the next step.
In another clean, wide metal bowl, add the egg yolks and warm water. Whisk to combine.
Place egg yolk mixture on the double boiler, whisking continuously (but still gently. You just want to temper the eggs, not incorporate air into the mixture). Heat the yolk mixture until it reaches 160oF and remove from heat.
Pour the yolk mixture directly over a fine-sieve strainer and into the chocolate mixture.
Gently tap sieve to pass through all the egg yolk mixture, but do not push anything through the strainer (this will help make sure your truffles stay super smooth and creamy).
Vigorously whisk the entire mixture with a balloon whisk for about 1 minute. You want the mixture to be shiny and satiny. It should look like a chocolate pudding at the end of whisking.
Once you reach the correct consistency, refrigerate for an hour while you move on to the next step...
WITH ROASTED MATCHA WHIPPED CREAM

INGREDIENTS
Brownies
50g TCHO Natural Cocoa Powder
350g Whole Milk
270g TCHO Extra Dark 81% Chocolate
3 Whole Eggs, at room temperature
105g Melted Unsalted Butter
2 tsp Vanilla Extract
270g Rice Flour
360g Cane Sugar
5g Baking Powder
4g Kosher Salt
TCHO Roasted Cacao Nibs, for garnish
Maldon Sea Salt (or other flaky sea salt), for garnish
Melted Butter, for greasing pan
Roasted Matcha Whipped Cream
500g Heavy Cream
85g Cane Sugar
25g Roasted Matcha/Hojicha Powder
Pinch of Sea Salt
DIRECTIONS
Brownies
Preheat oven to 300oF (if using convection oven) or 350oF (if using non-convection oven).
Add cocoa powder and whole milk to a pot. Cook over medium high heat, and continually whisk to get rid of lumps. Mixture has to reach boil in order to cook away the "raw" taste of the cacao powder.
Once it boils, take it off the heat and add TCHO 81% dark chocolate. Whisk until melted and smooth.
Then add eggs, butter, and vanilla. Whisk until evenly combined.
Then, in the same pot, add all the dry ingredients into the chocolate mixture and stir until combined.
Generously grease the baking pan with melted butter. Pour batter directly in the pan. Sprinkle with cacao nibs and flaky sea salt.
Bake in the preheated oven for 40-50 minutes. To check whether it's done, insert a toothpick or metal skewer into the center of the brownie. The toothpick should be moist and be (mostly) clean. If the toothpick comes out liquidy, then return it to the oven for 5 more minutes.
Let it completely cool before cutting. Then cut into 2" squares.
Roasted Matcha Whipped Cream
Using a stand-mixer fitted with the whisk attachment, add all the ingredients and whip on medium speed until the cream forms soft peaks.
Scrape the bowl and set aside in the fridge until ready.
When you're ready, spoon a dollop of whipped cream...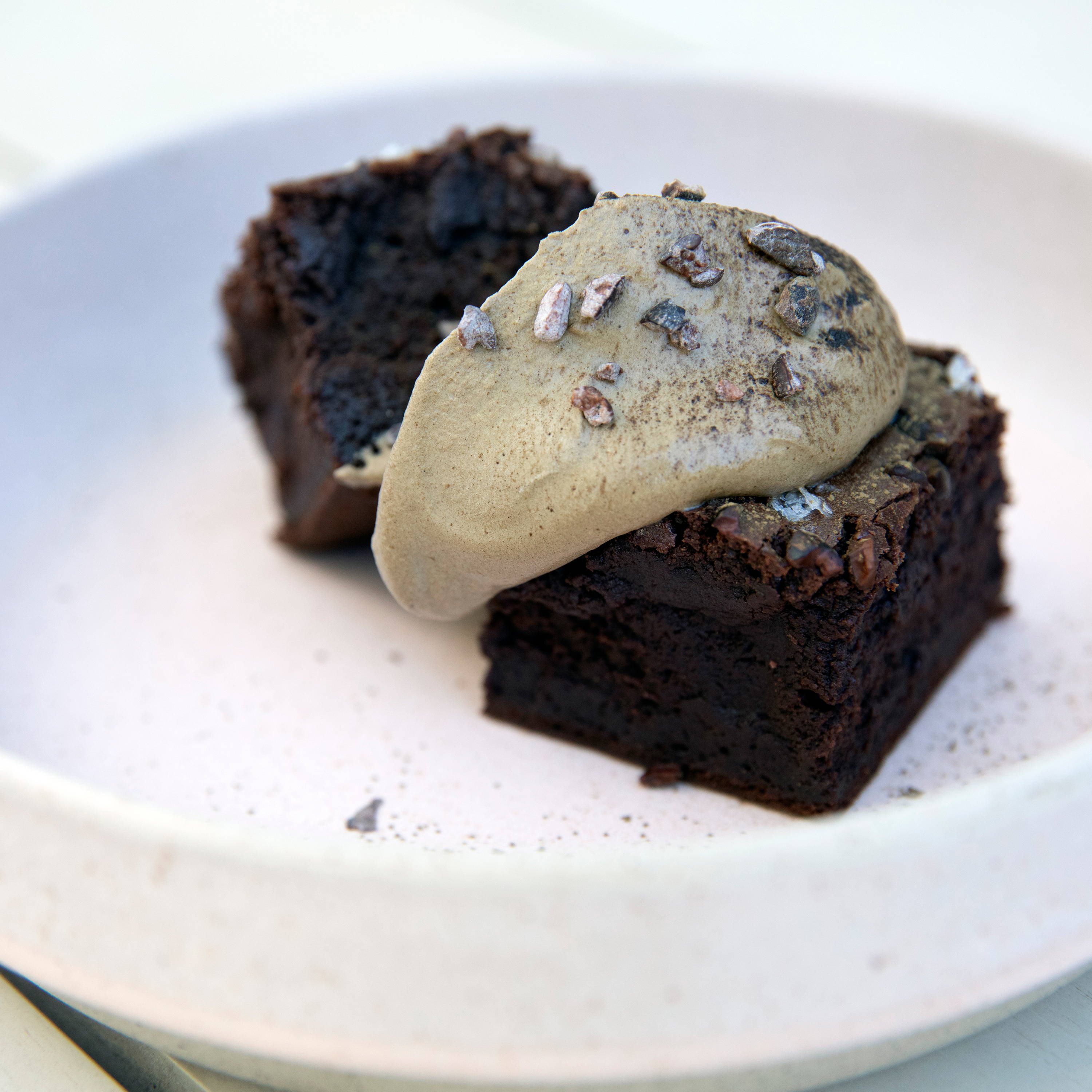 READY TO GET COOKING?
Choose your journey, find your TCHO below: