"

TCHO cares about the quality of the ingredients and the education of their staff, which are two things I really care about as a chef. I care about quality and education.

 "

Fave TCHO Chocolate:
"I'm a milk chocolate lover and enjoy that TCHO makes a 54% Dark-Milk Chocolate. Pears and hazelnuts come to mind when I taste the 54%."


Fave Chocolate Dessert: 
"Chocolate Cake"

3 Ingredients I Can't Live Without?
"Salt, sugar + oil. I enjoy working with finishing salts, like smoked salt or coffee salt, especially with a chocolate dish to enhance the flavor."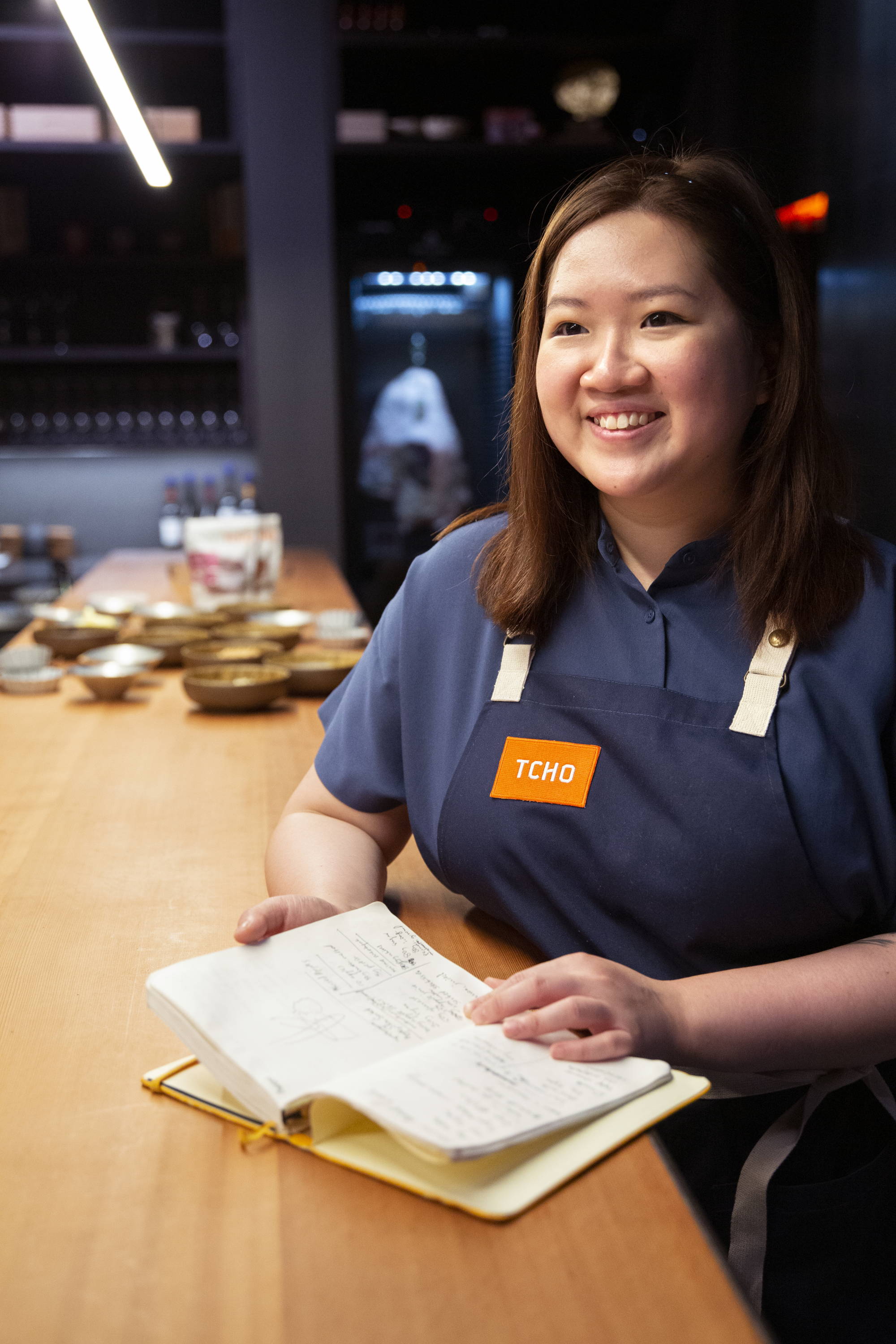 Singapore-native Ethel Koh's passion for baking started as a hobby while working as a nurse. It was only after she started working at a rustic bakeshop she discovered her love for baking cakes. Koh earned her degree in food business management at the Culinary Institute of America in Singapore and moved to California to train under Chef Marc Zimmerman at Ittoryu Gozu and Pastry Chef Joshua Gaulin at Quince. Koh now applies her newfound skill by incorporating Japanese ingredients with hints of nostalgia into her desserts at Ittoryu Gozu in San Francisco.
LEARN MORE ABOUT THE CHEF
What inspired you to become a pastry chef?
ETHEL: When I worked as a nurse, I used to make desserts for my coworkers as a stress reliever, then baking naturally became my hobby. I decided to go to culinary school and naturally connected with sweet flavors and everything fell into place from there.
I made all of the celebration cakes for my coworkers, then got a job at a bakery and fell in love with it. The bakery inspired my love for cake.
What do you love most about being a chef?
ETHEL: When I experience something new, it is really exciting. Pastry is also a luxury in life, when I do get to share this slice of happiness with other people, it makes me happy.
Where do you find inspiration when pairing ingredients?
ETHEL: I love exploring new flavors. Where I am from in Singapore, the desserts are usually flavored with coconut sugar, coconut, and pandan (screw pine leaves) and those are the 3 main flavors that you get there. Fruits are usually just eaten as is. When I explore new countries, new flavors, and new seasons, that's when I get inspired.
Who in the culinary industry have you learned a lot from?
ETHEL: I have learned a lot from Chef Joshua Gaulin when we worked together at Quince. He taught me a lot, not just about pastry but about life, and how to stay optimistic. When everything in the kitchen is busy or if we were having a tough day, there was no point in getting angry about it because it brought everyone's spirits down. We were already working in a hard place so we learned to go with the flow and laugh through the tough times together.
Who is the most important person you have ever cooked for?
ETHEL: I cooked for Jean-Georges back in culinary school during our graduation dinner. The theme was modern-Indian so I made a chai flavored dessert with a ginger chocolate cremeux with milk tea ice cream and a cardamom foam. That was one of the first compost desserts I made. But cooking for friends and family always feels more important than anything else. We always spoil them.
What advice would you give an aspiring chef?
ETHEL: Right now I'm at the point where I am still learning and I would tell someone entering the culinary industry that you will never stop learning.
What are three ingredients every chef should have in their kitchen?
ETHEL: Salt, sugar, and oil. I picked these three ingredients because they're the basics that I feel like everyone should have to cook. I also really enjoy working with finishing salts like, smoked salt, or coffee salt especially when working with a chocolate dish to enhance the flavor.
What was your first introduction to TCHO?
ETHEL: When we first brought TCHO Chocolate into the kitchen, we were developing a wagyu fat chocolate chip cookie. We really wanted to find a nutty, deep cocoa-flavored chocolate that could balance the smoked wagyu fat and ended up using the 68% couverture blend for it. Nothing beats a warm cookie and when you open it the chocolate just oozes out.
The cookie is one of our favorite items on the Gozu menu right now, along with our TCHO Chocolate S'more.
What do you like about TCHO? How does TCHO fit into your chef/restaurant philosophy?
ETHEL: TCHO cares about the quality of the ingredients and the education of their staff which are two things I really care about as a chef. I care about quality and education.
How is TCHO different from other chocolates you have used?
ETHEL: TCHO chocolates are flavor-focused and I enjoy that because it pairs well with other flavors. I can find a vast range of flavors with the selection of chocolates for various preparations.
Oftentimes, milk chocolate can be overbearingly sweet, but the sweetness of the TCHO 39% milk chocolate was balanced with slight bitterness and a rich malt flavor that we incorporated into the TCHO chocolate s'mores.
I also enjoy working with the 99% dark chocolate because of the deep cocoa flavor without the added sweetness. I like to shave the 99% dark chocolate over chocolate tarts for a melt-in-your-mouth texture instead of dusting cocoa to finish.
What do you enjoy doing when you are not in the kitchen?
ETHEL: I like hiking and foraging. During the pandemic, my friends and I have been learning how to forage and how to incorporate our gatherings into food dishes. I find inspiration when I spend time in nature and have recently foraged berries, sea urchin, and pine to make tinctures.
Do you have any hidden talents? / What is something that most people do not know about you?
ETHEL: I don't really have hidden talents as over the years, I've dedicated my time to this craft. But, I used to be a nurse and I'm really good at first-aid. This skill has been helpful working in the kitchen.  
ETHEL'S RECIPES + CHEF DEMOS

HOW IT'S MADE: ETHEL'S CHOCOLATE TART

Ethel's first recipe with the TCHO Pro Initiative is one that's followed her across the globe, her Chocolate Coffee Caramel Tart. If all those comforting buzz words didn't draw you in and make you drool just a little, watching her in action definitely will.
Follow along as she works her magic in this video and get a peek into her home away from home, the kitchen at Gozu in San Francisco.
Then scroll for the full recipe!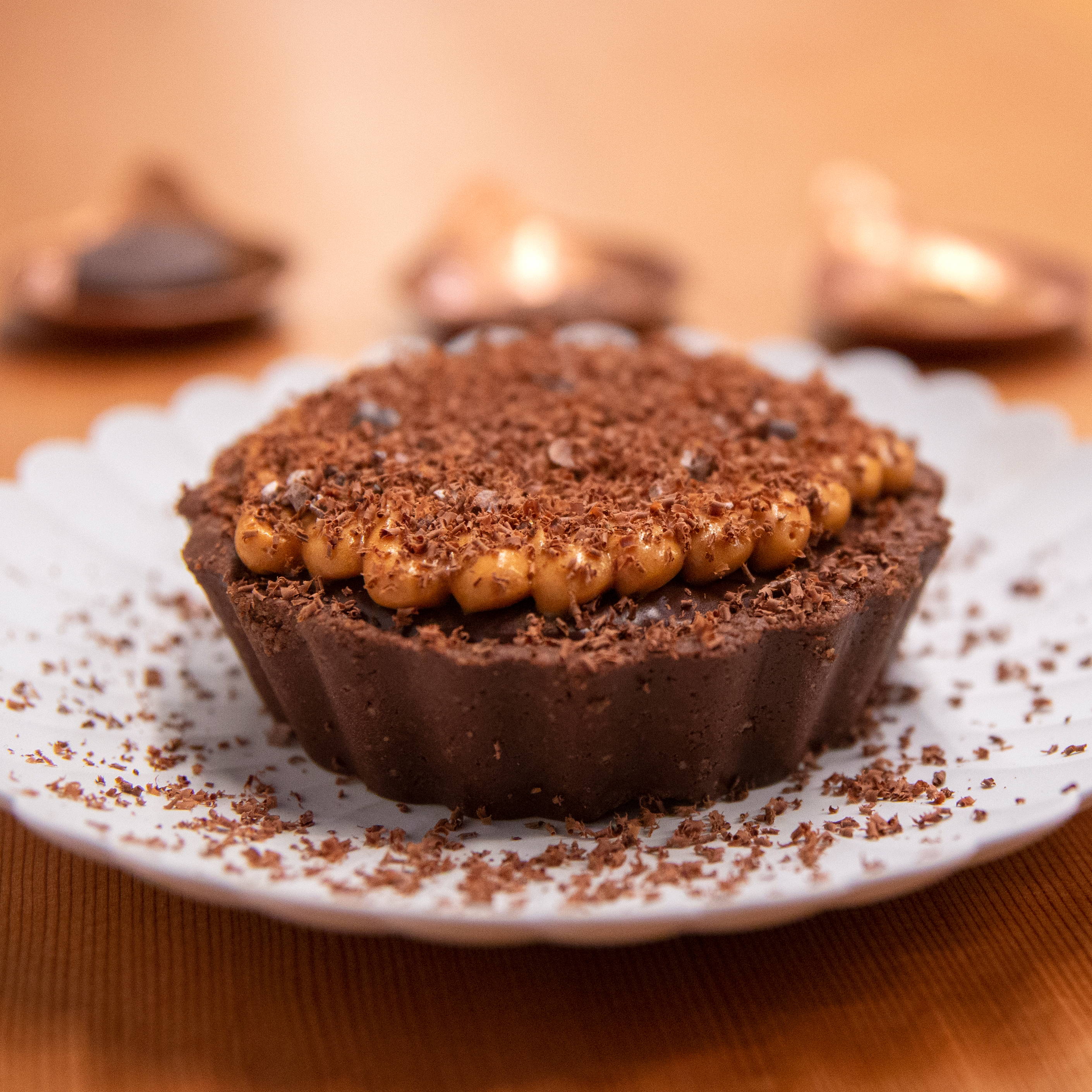 CHOCOLATE COFFEE CARAMEL TART
INGREDIENTS
Shortbread
125g Butter
125g Sugar
187g All-Purpose Flour
5g Salt
Chocolate Crust
80g Shortbread
50g Almond Flour
30g TCHO Natural Cocoa Powder
30g Powdered Sugar
40g Melted Butter
Whipped Caramel
150g Sugar
100g Cream
50g Butter
5g Espresso Salt
1.5 each Gelatin Sheet (gold)
5g Vanilla Paste
2g Coffee Extract (Trablit, preferred)...
DIRECTIONS
Shortbread
Preheat oven to 350oF.
Cut the cold butter into small cubes, set aside. In a large bowl, mix together the sugar, flour, salt, then rub the cold butter into the dry ingredients until the mixture starts to crumble into a 'sandy-like' texture.
Place the shortbread crumbles onto a baking sheet and bake for about 7-8 minutes until golden brown.
Cool, then break up the larger clumps with your hands until they are about the size of a pea.
Crust
Melt the butter...
GOZU'S CHOCOLATE CHUNK COOKIES WITH WAGYU TALLOW
INGREDIENTS
120g Unsalted Butter
20g Waygu Tallow
112g Sugar
112g Brown Sugar
5g Bourbon Vanilla Extract
1 Egg
1 Egg Yolk
270g All-Purpose Flour
1.5g Baking Powder
2.5g Baking Soda
4.25g Salt
150g TCHO 68% Dark Chocolate Baking Discs
Finishing Salt

DIRECTIONS

Freeze the chocolate and chop in robot coupe or food processor into 'chip' size (about the size of a penny) or use a knife and a cutting board to hand chop.
Combine sugars, vanilla, wagyu tallow, and butter in the bowl of a stand mixer fitted with a paddle attachment and cream together thoroughly (do not incorporate too much air), scrape bottom of the bowl as needed.
Whisk eggs in a separate bowl and slowly stream into butter mixture while mixing on low. Mix until emulsified.
Sift flour, baking soda, baking powder and salt...
READY TO GET COOKING?
Choose your journey, find your TCHO below: